Message
Since our establishment in Meiji 42 (1909), we have created homes to satisfy our clients as a homebuilder of the community.
People and homes are nurtured by the climate and history of the community.
We would like to continue to create homes together with our customers by providing face-to-face homebuilding service where material selection and handwork are valued.
Akira Takeuchi
Representative Director
Takeuchi Komuten Co., Ltd.
About Us
Thank you for visiting our website. At Takeuchi Komuten, we have been creating homes based in the community. "Building homes with Kyoto grown woods" is our slogan, and we collaborate with local foresters to provide face-to-face homebuilding service.
Takeuchi Komuten is involved in afforestation projects and woodcraft classes using locally grown materials as part of our activity to encourage people to know more about trees and woods that we are familiar with, but in a sense distant as well, and to consider them as useful resource. We believe the activities would help reserve well-maintained forests that produce quality materials for future generations.
We strongly hope to keep providing opportunities to experience the pleasant feeling of living in a home made of natural woods.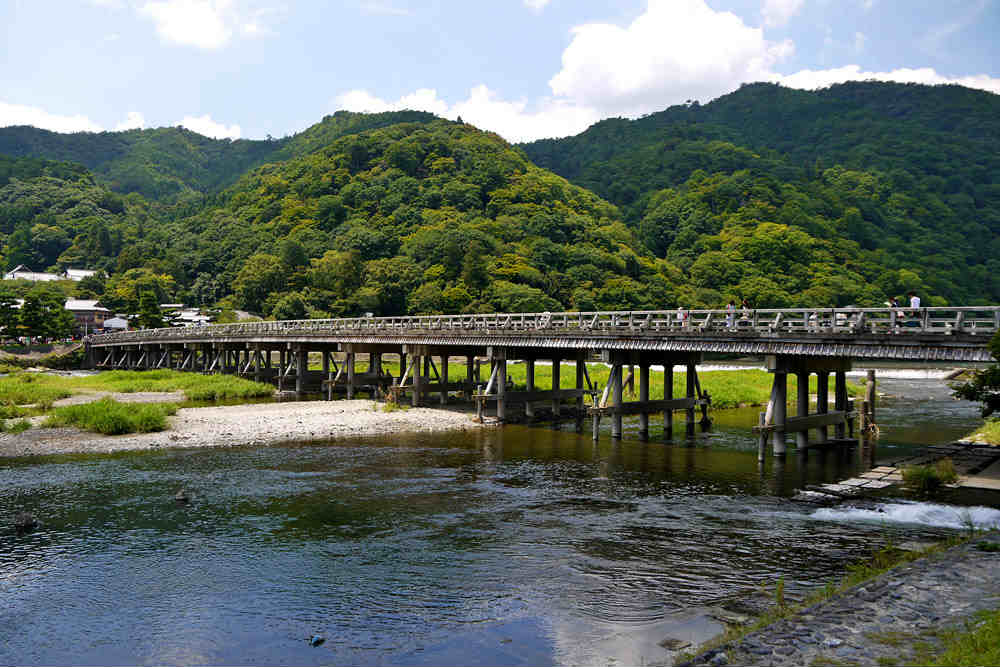 Creating a Place to Live.
Takeuchi Komuten has devoted itself to building custom homes.
From Sagano's historic house to a modern building … every town is like a model house of Takeuchi Building.
We have always created homes to satisfy our clients as a homebuilder of the community.
We will continue to build quality homes in the historical city of Kyoto.
Our Specialty
Since its establishment, Takeuchi Komuten has spent its years together with the people in the community of Saga,Kyoto, a wood and lumber center of the region. We have mainly concentrated on custom homebuilding with our special interest in creating homes made of woods grown in Kyoto. Our building plans invite natural light and breeze into the space while proposing practical and efficient function within the Japanese ambience.
We often recommend sloped ceilings with visible structural design including the beams. It is a way of incorporating an element of change in the rich space. Based on the practical and ecological aspect of traditional Kyoto townhouses, we aim for energy and cost saving homes. It is also our belief that the exterior of the house including the depth of the eaves, color of the walls, and decoration should best match the surrounding environment and follow the traditional details.
Our understanding of a wooden home is a home built with the most appropriate wooden piece in the most appropriate place, and the interior finished with matching materials such as plaster, diatomaceous earth, or eco-friendly wallpaper. We have named our homes made in such way "Kiraku-no-ie (a house to enjoy wood) "
More and more clients are requesting facilities such as stainless or artificial marble kitchen countertops, doors made of natural wood, or built-in sink counters with mosaic tiles attached, which are the elements reflecting the clients' special preference. We are ready to respond to such detailed requests, which is only possible in custom-made homes.
It goes without saying that a spirit of craftsmanship and skills of excellence are inevitable in creating such homes.
Attention to wood
Commitment to wood, cedar and hinoki conifers are used for interior materials of construction materials, floors, walls, ceilings, hardwood flooring as a bedding and flooring, Moreover, it is built in the building as building furniture, and other furniture that matches the house with solid wood hardwood is chosen, and the carpentry craftsman of our company selects the material and is making it. These are produced by selecting the owner's favorite material from among many stock materials in its own warehouse.
We set the price as affordable as necessary for the house of our company's tree. These innocent materials give comfort to give out the thickness and texture to the house as time goes on.
When I used it on the ground plane of the entrance as requested by the owner to leave the zelkova material that was the ground plane between the deck at the time of rebuilding the house and use it as a part of the new residence, the rustling feeling of the old material I have found that they are blending in new homes (they are increasing in texture). The history and oldness of the building is being reviewed also in renovation of a town house.
And now, the buildings, spaces and designs of the Kyomachiya family and the materials used are being re-recognized as vintage.
Wooden building materials have long been used for wooden buildings, as well as for relocation, for different buildings, for different parts to be used around. Especially, we use the value of the old one and make use of it (reuse) This is the wisdom of the reasonable life of the Kyoto people.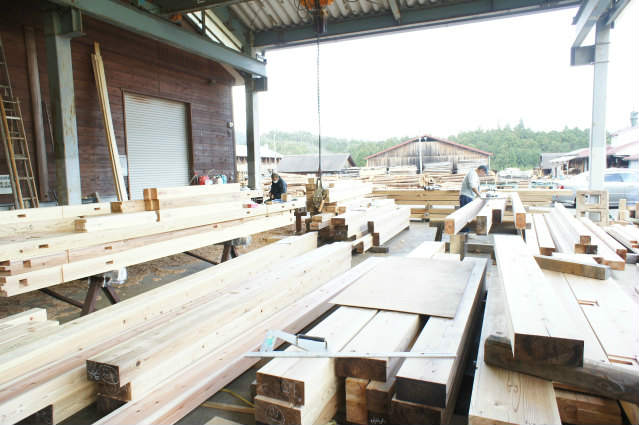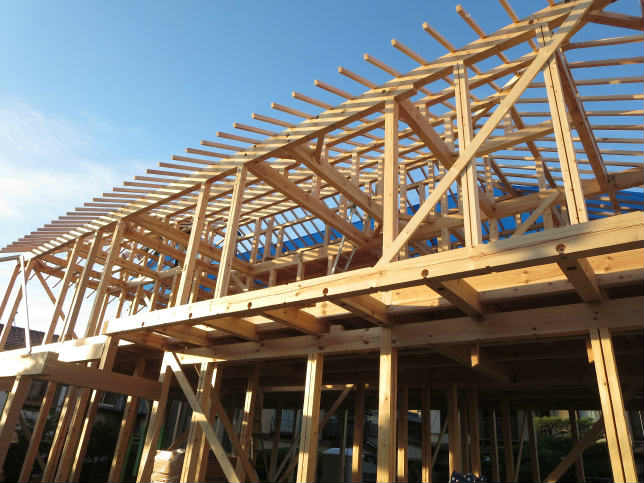 On the other hand, Kyoto has a climate that creates and accepts innovative things while inheriting traditional things. There are many cultural properties historically in Kyoto, and there are still many Kyomachiyas.
We also have a consciousness as a construction store in Kyoto, work to take care of the old things and take over to the next generation, On the other hand, we have made new attempts and practices such as construction of new wooden buildings using laminated wood and CLT made to expand the consumption of community timber, dealing with pellets using thinned wood of community material etc , And will do further challenge.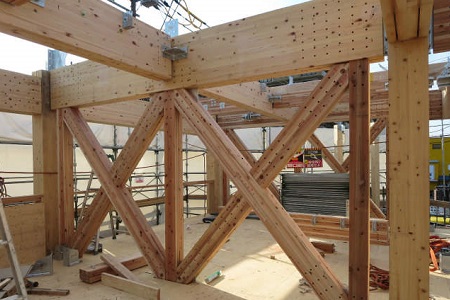 Construction example
It is a collection of our proud boasts that has worked on many orders.
With wooden houses as the basis, we also have confidence in construction such as RC construction.
Click each category to go to the details page.(japanese)

New arrival construction example
2021年2月15日

京都市北区「紫野の家」~土壁の部屋がある気密工法の家~ 特徴 京都市北区紫野、昔ながらの西陣の街並みが残る地域に完成した新築住宅です。 左官仕上げの外壁に、杉板、格子を合わせ、軒裏は30mm厚の杉板を現しにし準防火地域対応の仕上げとしています。 和モダンな印象の外観は、紫野の風情ある街並みに調和しています。 M邸は、省エネ、温熱環境に配慮した、気密工法の家です。 寝室は土壁となっており、蓄熱、断熱、調湿性という優れた機能を取り入れています。 また、家事動線に配慮した収納計画や造作家具、バリアフリーデザイン等、細やかな計画がされています。 出来るだけ自然素材に囲まれて生活がしたいとのご要望を取り入れ、内装は無垢木材、藁入りの珪藻土で仕上げました。 材料一つ一つを丁寧に選ばれ、お施主さまのこだわりがたくさん詰まった心地の良い木と左官の空間になりました。 構造 木造2階建て 種別 新築 場所 京都市北区 設計 トヨダヤスシ建築設計事務所 竣工 令和2年10月 延床面積 延床面積:101.06㎡(1階:50.94㎡ 2階:50.12㎡)

>Look at this construction example
2020年12月11日

修学院の家 特徴 京都市左京区修学院の住宅街に建つモダンな建物です。 2階に配置されたリビングはアイランドキッチンを中心に、 スキップフロアと下がり天井がアクセントになっており、シンプルで洗練された空間になっています。 また、造作の収納が各空間に計画され、スッキリと生活感が出ないように計画されています。 ライトコートにより、外からの視線を遮り、建物に光を取り入れています。 窓から四季の空気を感じられるお住まいになりました。 構造 木造2階建て 種別 新築 場所 京都市左京区 設計 片岡英和建築研究室 竣工 令和2年5月 延床面積 延床面積 100.72㎡(1階:56.30㎡ 2階:44.42㎡)

>Look at this construction example
2020年8月18日

「嵯峨小倉山O邸」~通り土間のある家~ 特徴 奥嵯峨の昔ながらの風景が残る地域、周囲の景観に溶け込む和風新築住宅です。左官仕上げの外壁に正面の焼杉板が建物のアクセントになっています。外部の通り土間は天井を高く、広々としておりアウトドア用品などの収納もかねています。家事室の収納や将来的に間取りを変更できるプラン等、これから子育てをされる若い住まい手さまのアイディアを取り入れています。 お庭に面した縁側の深い庇は、強い日射を遮ります。構造材、造作材ともに京都府内産の杉、桧を使用しており、低炭素住宅の認定をとった省エネ型のお住まいとなっています。 構造 木造2階建て 種別 新築 場所 京都市右京区 設計 自社設計 竣工 令和2年3月 延床面積 延床面積 128.30㎡(1階:79.31㎡ 2階:48.99㎡)

>Look at this construction example
お客様の声
竹内工務店で実際に家づくりをされたの「お客様の声」をご紹介させていただきます。
これから住まいづくりをお考えの皆様にも竹内工務店の家づくりを知っていただきたくおもいます。
京都市北区「M邸新築工事」 ~お客様の声~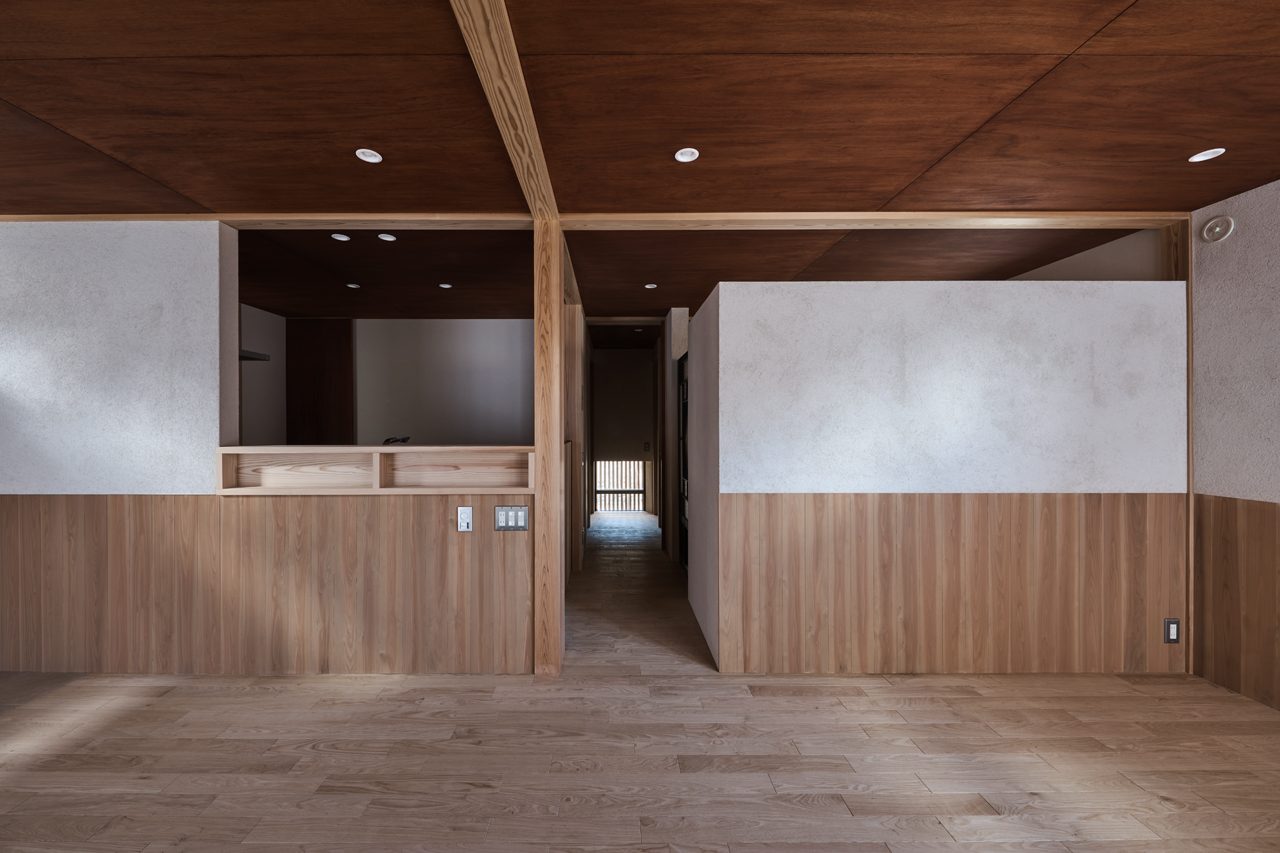 「新しい家で一冬過ごしてみて改めて木の家の暖かさを実感しました。」「以前は冬、足元、足先が冷えていましたが、新しい家で生活するようになってから軽減して楽になりました。」
---
京都市西京区「W邸新築工事」~お客様の声~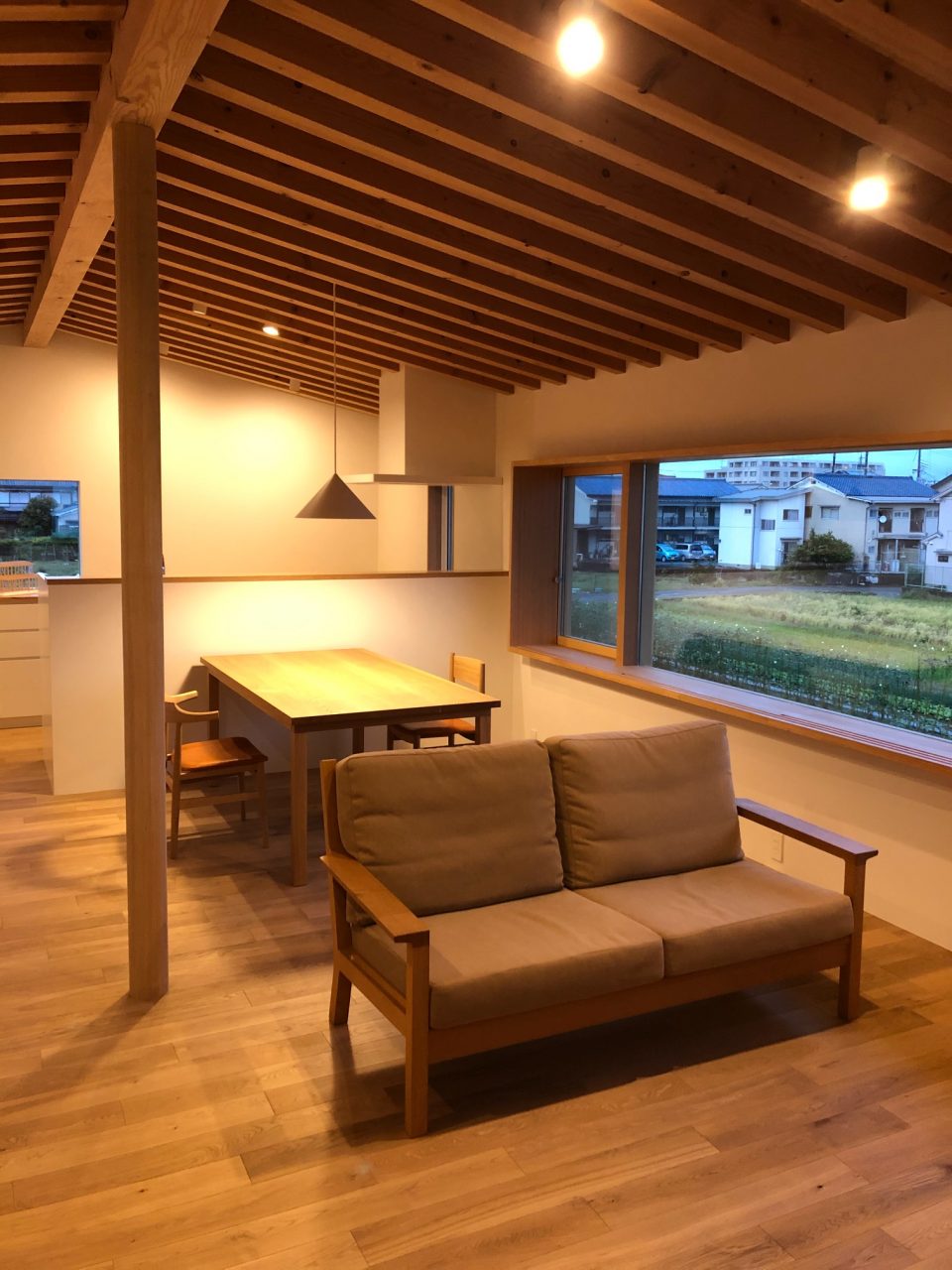 「引っ越しを担当したお兄さんが「今までのお邪魔したお家の中で一番住みたいです!!」と言ってくれました
---
「京都市右京区K邸新築工事」~お客さまの声~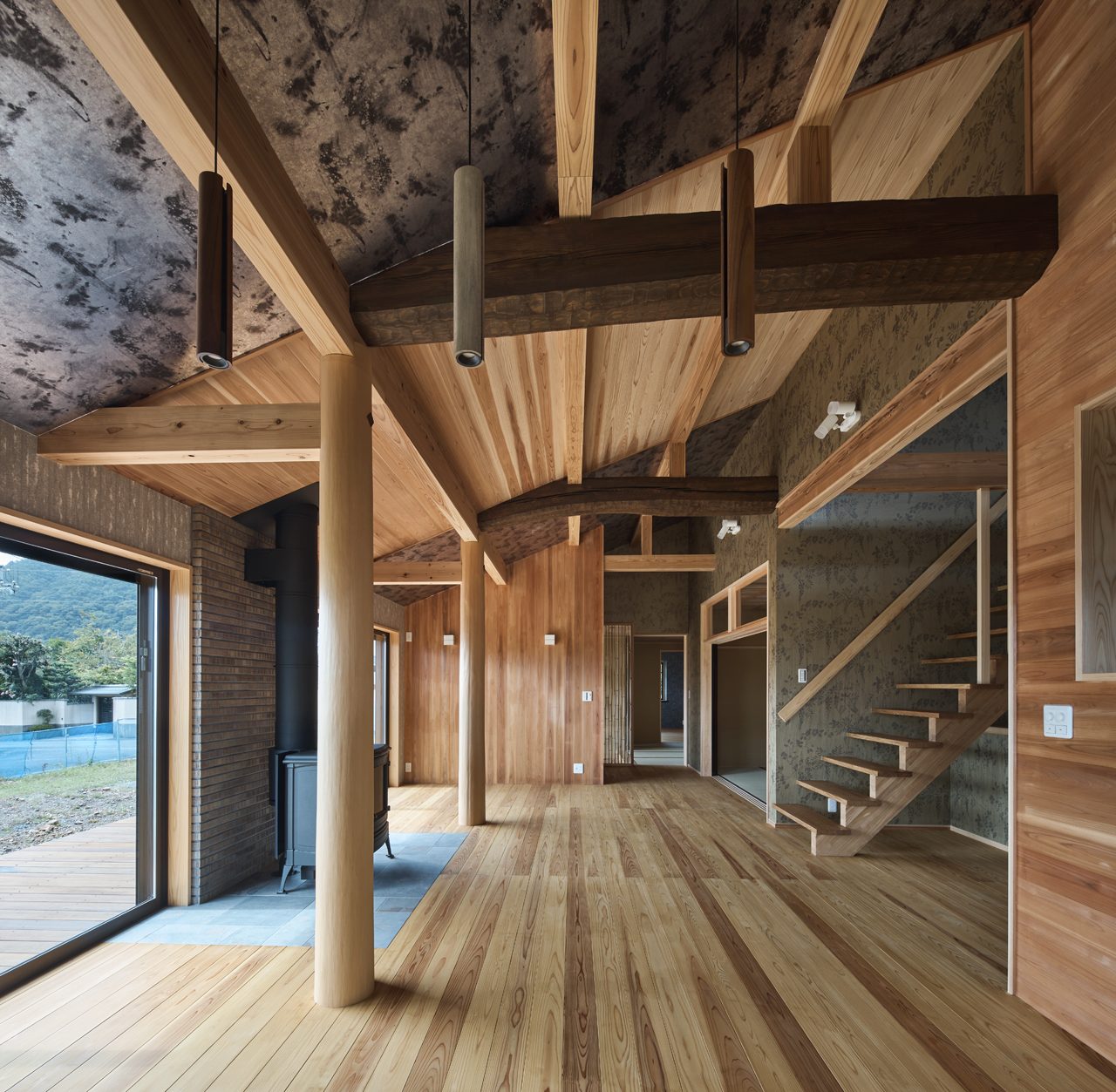 「リビングの杉の上小のフローリングは、素足でいることの多い家族にとって柔らかく、暖かく快適」
「鶯や蛙の鳴き声や、秋の赤蜻蛉等、季節を肌で感じられる」
---